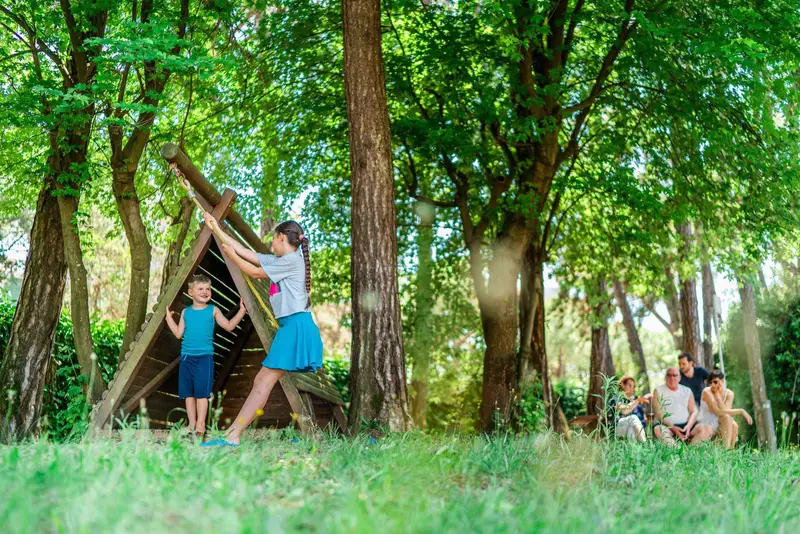 Family services
Between relax and fun
Los Nidos Village is the ideal place for families with children. A rich entertainment program accompanies the little ones during the day, while parents enjoy moments of relaxation in the pool and SPA. There is also a large games-room, small swimming pool with slide and green areas equipped with swings and spring games.
Our kids service:
Family Beach: beach equipped with sund beds, umbrellas and services for families
Entertainment for children age 3 to 11
Nanny for baby guests (3-36 Months)
Oudside pool
Play areas surrounded by greenery
Indoor games room
Sports area with tennis and beach volleyball courts
Pulcini Club:
Children from 3 to 36 months
At the Albatros Centro Vacanze we take care of all our guests, even the youngest ones. The nanny takes care of babies from 3 to 36 months, giving parents moments of relaxation with the peace of mind of knowing that their puppies are in good hands.
Mini e Junior Club:
entertainment 3-11 years
Children age 3 to 11 years will find in the mini and junior club a space to enjoy a series of creative and sporting activities, in the company of their peers. At their side there is always our trusted team of entertainers, ready to accompany them in new outdoor experiences. And in the evening, everyone on the dance floor for the baby dance!
Information and entertainment times
The Pulcini Club is active in the months of July and August, from Monday to Friday, from 9:00 to 12:00. For more information on the entertainment service, contact the reception.
About us
While you are at home you can safely leave the children playing outside
Fantastic structure: lots of games for children, spacious bungalows, cleanliness, kind and friendly staff, in 10 minutes in foot you can reach the beach!
Immerse yourself in the world of Albatros
© 2023 LOS NIDOS S.R.L.
VAT 00402300305
Share Capital € 200.000,00 i.v.
QNT Hospitality